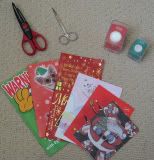 You need:
Old cards
Scissors
(Straight edge or jagged)
Optional:
Card stock
Hole punch
Ribbon, string, or raffia
Every year, people send Christmas cards to friends and family. Although our loved ones appreciate the thought, the cards quickly lose appeal as the Christmas season progresses. They hit the garbage the day after Christmas, only to become fill in a garbage dump.
I reuse old cards to make gift labels. It allows me to personalize my gifts while recycling. You can use the recycled bits for
scrapbooking
and making new cards. It's quick and simple.
Because not all cards work, look through the stack for phrases, designs, and characters. Don't forget to look inside the card. Carefully cut them out with straight or jagged edged scissors.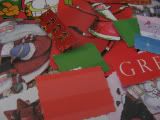 Store the labels with your gift wrapping supplies. I keep mine in a plastic
Ziploc
bag to keep water out. An expanding file works as well. Organize labels by
occasion
for easy access.
When labelling, simply punch a hole and tie the label with a string. Don't forget to write a touching or humorous message!