Sore muscles? Cramps? Herbal Hot/Cold Pads are perfect for everyday aches and pains. Simply microwave and place on your shoulders or wherever you're sore. Or stick it in the freezer to cool you down.
At the mall, herbal heating/cooling pads are sold for about $20-$30. You can make them for a fraction of the cost.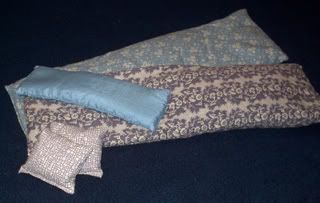 You need:
a fat quart of material, preferably cotton or flannel
rice (do not use instant)
flax seed
dried lavender petals (or other dried herbs)
lavender/rosemary/peppermint essential oil
needle and thread
fabric pins (optional)
1. Mix rice, flax seed, and lavender in a large container. I use more rice because it is the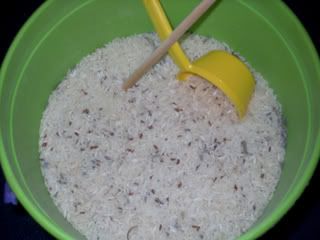 cheapest ingredient. Add essential oils, but don't add too much because it's overpowering.
2. Cut fat quarter in half. Fold in half so the wrong side is on the outside. Pin and sew along two sides (a skinny and the long).
3. Turn inside out. Right side of material should be visible.
4. Fill 1/2 to 3/4 of sack with rice mixture.
5. Sew along opening to close.
Heat pad for approxiamately two minutes. Make sure the bag is not too warm as it'll burn the skin. Place on the shoulders. Relax!
Variations: Make two smaller squares. Send them outdoors with children on a cold day. Or cut out a small rectangle to make a eye mask. Heat/cool accordingly.
Also, try filling pads with other microwave-safe materials such as dried corn and buckwheat husks. Filler can be changed every few months to keep the pad fresh.
For Sale on Etsy:
Herbal Hot/Cold Pad
Herbal Hand Warmers