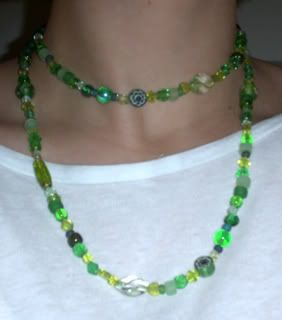 discussion at
craftster
Tools: Various glass beads, nylon filament string (8 lb.), crimp tool, lobster clamp, crimp beads, crimp tool, bead tray (optional)
Estimated time: 1 1/2-2 hours
This project is a potential stash buster. Craft stores sell cheap bulk packages of glass beads if you need them. Different bead finishes (iridescent, faceted, clear, matte) add texture and character to the piece. Placing unexpected shades and sizes together gives the necklace an eclectic feel. Because I used only beads on hand, I had to add a clasp so I could wear mine. If you don't want to bother with crimps and clasps, make the necklace longer.
*Gather beads of similar colour.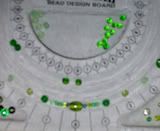 *If you have a bead tray, line the beads in a pattern, starting from the centre. Work your way to the ends. I found placing the larger beads first helps to keep placement random. While I placed the beads in pairs, the pairs don't have to be the same bead, but similar. If you don't have a bead tray, try to place beads as randomly as possible. Make sure to evenly distribute the weight.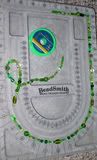 *Now to string the necklace. Originally, I cut the string to length, but I found it necessary to restring. When finished stringing the beads, add a crimp bead and clasp. Loop the end of the string back through the crimp bead, and use crimp tool. Cut string and repeat on the opposite end.
Project note: I used several heart-shaped beads. Remember, if you have such beads set across from each other, make sure to have the "up" side toward the ends to ensure they match each other--or don't if you don't care.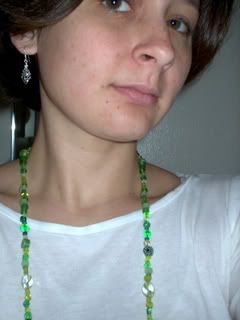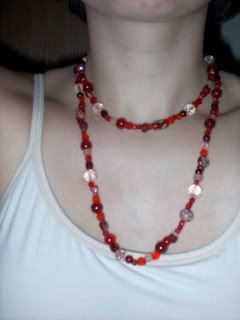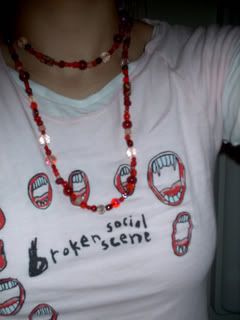 the green necklace is for sale at
my etsy shop